At ARTrageous, we have the best customers in the world. And we're fortunate that they love us, too! We've been lucky enough to serve this community since 2005. Here are some of the nice things people have said about us over the years: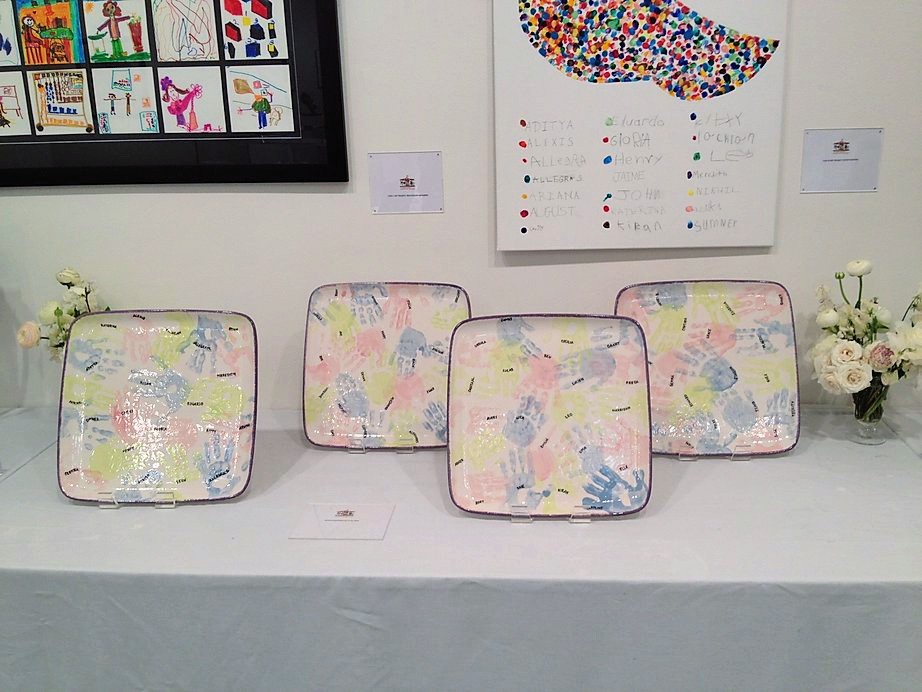 "The platters are absolutely wonderful and were exceptionally well received by the school at the party on Tuesday night. They will be auctioned next week. I wanted to thank Liz for exceptional artwork and meticulous attention to detail with the project and another chick platter that she made for us. These wouldn't be as beautiful as they are without her artistic touch and expertise! I am exceptionally grateful to her for her hard work with this. I also wanted to let you know that Kate, Joanna and Michelle were very helpful and Kate's paint choices were outstanding. I am so impressed with all of your employees with their professionalism and for their eagerness to help with every last detail."
"A friend and I decided to come here to see what it was all about. The staff did a tutorial with us on how it works, where everything is, and different techniques we can try. She made it so easy for us and even helped us pick out what we wanted to do. We sat down and I noticed how clean everything was. The store was beautifully decorated with painted pottery. The paints were in the correct shelves, it was very organized (which was nice since there were a lot of kids there). Everyone was super helpful and friendly. They've got a wide selection of pottery to chose from. Def recommend :)! "
"Came here tonight to celebrate a birthday and I was presently surprised! We had a reservation for BYOB Night. There was PLENTY of pizza, fruit, veggies, dip, and desserts for everyone to snack on. The best part about Artrageous is the friendly, extremely knowledgeable, and accommodating staff! I mean, whatever questions I had or whatever I needed, they were more than willing to help me. It was really a treat to be treated so nice. They even help with suggestions on how to decorate your piece (I'm not so artistic) I will absolutely be going back in the near future. It was such a better night than going out to same old lame bars to catch up with friends."
"Overall, I am so impressed by everyone in this store. The place is friendly and inviting with reasonable prices for everything. It's clean, organized, and well run. I would highly suggest coming to ARTrageous to anyone and made the trek from the city to get my platters done here as they were all so wonderful and accommodating. I will definitely be back to paint with my kids. Absolutely love this place!!!!"
"ARTrageous was amazing. Staff was very helpful and the place was very clean and organized. I just loved it and so did my kids."
"This place is so fun and unique! A perfect fit for RVC. My boyfriend and I came for Bring Your Own Wine Night (um, HELLO, what better way to get me in) and had such a great time. The place is clean and well-organized. Everything is labeled, including drawers, so you can find and get everything yourself. The staff is so warm and helpful. When we first came, Monica explained how everything works and repeatedly asked us if we were ok and if we needed anything. For Friday night wine nights, they provide food (ours included pizza, biscotti, cherries, etc.) so don't worry about that."
"I'm spreading the word about stamping and how much fun it was. Can't believe how it brought out the creative side in all and especially those, like me, with limited artistic vision. You presented the steps in such a way that no one could make a mistake, and as you said, "more is just more and nothing is wrong." I would do it again in a minute! I can't wait to use my new platter! You're the best art teacher I ever had!"
"Bright, clean place with a friendly staff and tons of fun events scheduled regularly throughout each month. It's a great place to spend time if you're looking to do something other than the typical dinner/move night out."
"I just want to say THANK YOU for such a wonderful start to a special day. Although we've been to Artrageous several times, this was the first Mother's Day Brunch we attended. My daughter and I had a very nice time. You and your staff made everyone feel welcome, the brunch was delicious and, as always, the painting was fun and relaxing. Thank you very much."
"Thank you so Much for the PHOTOS!!!! It means the world to me ... We had an excellent day and will be back for more. Thank you for a wonderful Sunday morning!"