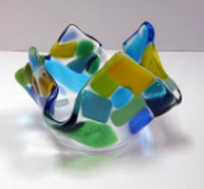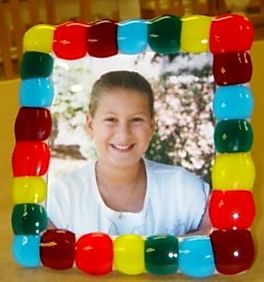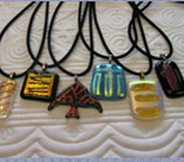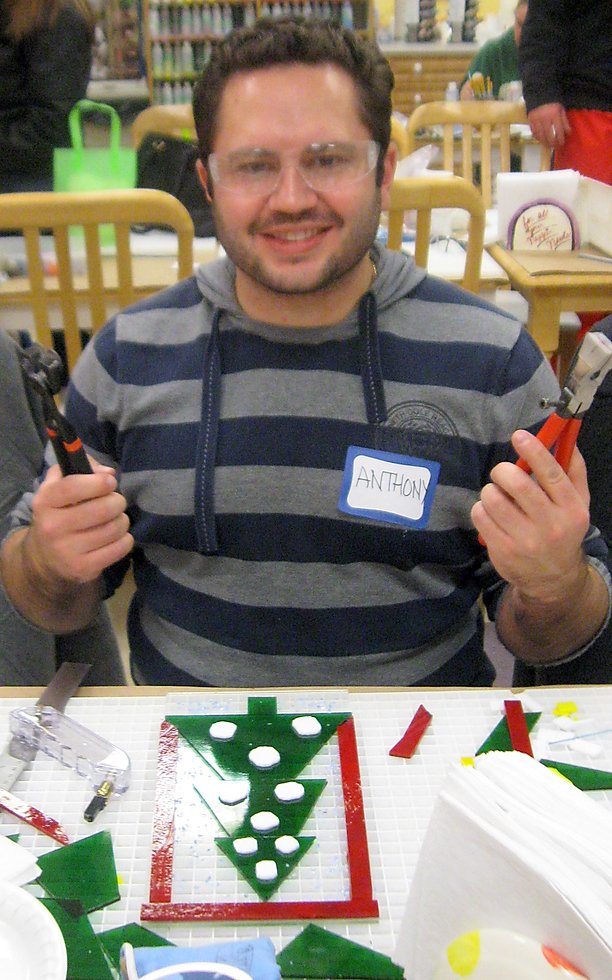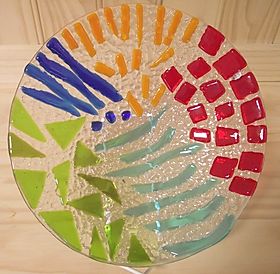 Glass Fusing is fun & easy to do, and the fired results are AMAZING!
Seriously - you won't believe how beautiful your projects are. No classes or previous experience are necessary to enjoy this fabulous art form. Just drop-in and try it any time - our staff can show you how!
1. Select a Glass Base for Your Project.
Round or square? Large or small? Clear or opaque? It's up to you! Think of your base as your canvas - you'll build your project on top of it.
You'll start by laying bits and pieces of colored glass on your base. We have lots of pre-cut shapes available, or we can show you how to cut your own. (Fun, simple, and, hey, you learn something new every day!)
3. Secure Your Design In Place
Once you have your design exactly the way you like it, secure the pieces with a dab of glue - so they stay put until we fire your piece. Voila! You're officially a glass fusing genius!
We'll fire your artwork to create beautiful, fused glass artwork.  We can even fire it a second time over a mold, so it takes on a bowl, dish, or candle holder shape.
GLASS FUSING QUICK FACTS: 
GLASS FUSING PRICES: Fused glass is priced according to the size of the piece, and range from about $25-$75.

GLASS PRICES INCLUDE: Glass base, design bits, materials, instruction, and a first firing (called the "fuse firing"). Perfect for glass art, sun catchers, pendants, ornaments, cake platters, night lights, picture frames, and other "flat" pieces.

SHAPE YOUR PIECE: If desired, we can fire your piece a second time over a mold (called the "slump firing") to create a dish, bowl, napkin holder, business card, or candle holder shape.  Slump firing fees are based on the size of the piece.

EVEN KIDS CAN DO IT!: Safety glass (a collection of smooth, pre-fired design bits) is available for use by kids pre-school age and up.

FUSED GLASS PIECES ARE FUNCTIONAL:  And they're food-safe!  Use them to hold jelly beans, jewelry,  fruit, condiments, business cards, napkins, scented soaps ... you name it!

FIRING TIME: Unless otherwise specified, your fused glass will be ready for pick-up in 2 weeks.  We do not call you when it's ready - simply come in on the "promise date" to pick it up.

FUSED GLASS CARE:  Treat your fired art lovingly. Since you made it by hand, we recommend you care for it by hand:  hand wash with mild soap, and avoid using your piece in the oven or microwave.

Is Glass Fusing available in ART-TO-GO KITS?  No.  Reminder: glass is SHARP and without direct supervision, we don't recommend a to-go option for this.  For a glass to-go kit we suggest Wine Glass Painting.  Click HERE for more info and available kits.