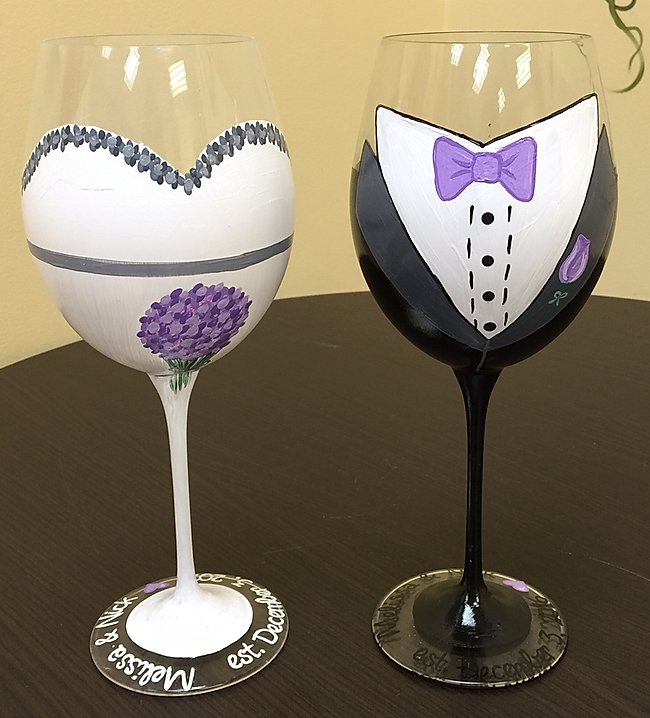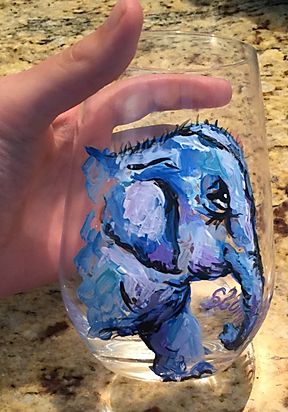 Glass Painting has arrived at ARTrageous, and this art form rocks!
It's so easy to do…let us show you how.
And the best part? You can paint and take your piece home the same day! How's that for instant gratification?
Personalized glass pieces make unique gifts. And it's just plain cool to sip your Bordeaux or Bubbly from a glass you painted yourself. It's a perfect activity for a Bachelorette Party or Ladies' Night Out event, too!
Select from fine stemware, stemless glasses, champagne flutes, pilsner glasses, and other beverage ware ... PLUS jars, pitchers, vases, and even WINE BOTTLE PAINTING!  (wooo, how fun is that?!)
We'll help you add a string of fairy lights to your painted wine bottle, or LED candle to your glass piece to create glowing home accent.
So many fun and festive colors to choose from! Or, you can be a "paint mixologist" and create a custom blend.
Pick up a brush, and apply color to your heart's content. Dots? Stripes? Flowers? Flames? You name it. Make yours daffy, sassy, or color-splashy – it's all good, because the aim of the game is F-U-N.
4. Take and Bake Your Art.
GLASS PAINTING QUICK FACTS ​
GLASS PRICES: $25-$50 range, and are all inclusive.

GLASS PRICES INCLUDE: The use of paints, materials, and instruction.  There are no additional charges. Just glassware + tax.

WHEN? ANYTIME!: Glass painting is available on a drop-in basis.  No class is required ... we'll show you how!

KIDS CAN, TOO!  Even Apple Juice tastes sweeter in a glass you painted yourself!
NO FIRING TIME IS NEEDED!:  Just set the paint in your home oven.

GLASS CARE: Hand-painted glassware should be hand washed. No microwave or dishwasher, please.

Is Wine Glass Painting available in ART-TO-GO KITS?  Yes!  Click HERE for more info.